Outside a light drizzle films the Richmond streets so stepping into the compelling space of the LaunchPad Create hub is a stimulation to the senses. Taking centre stage is the aptly named Cremorne Gardens W-Class tram which has been converted into meeting rooms and a presentation platform. Not to be outdone is the forest of trees planted throughout the hub and an inspiring backdrop for the presentation on WooCommerce and how to use WordPress to sell your products and services.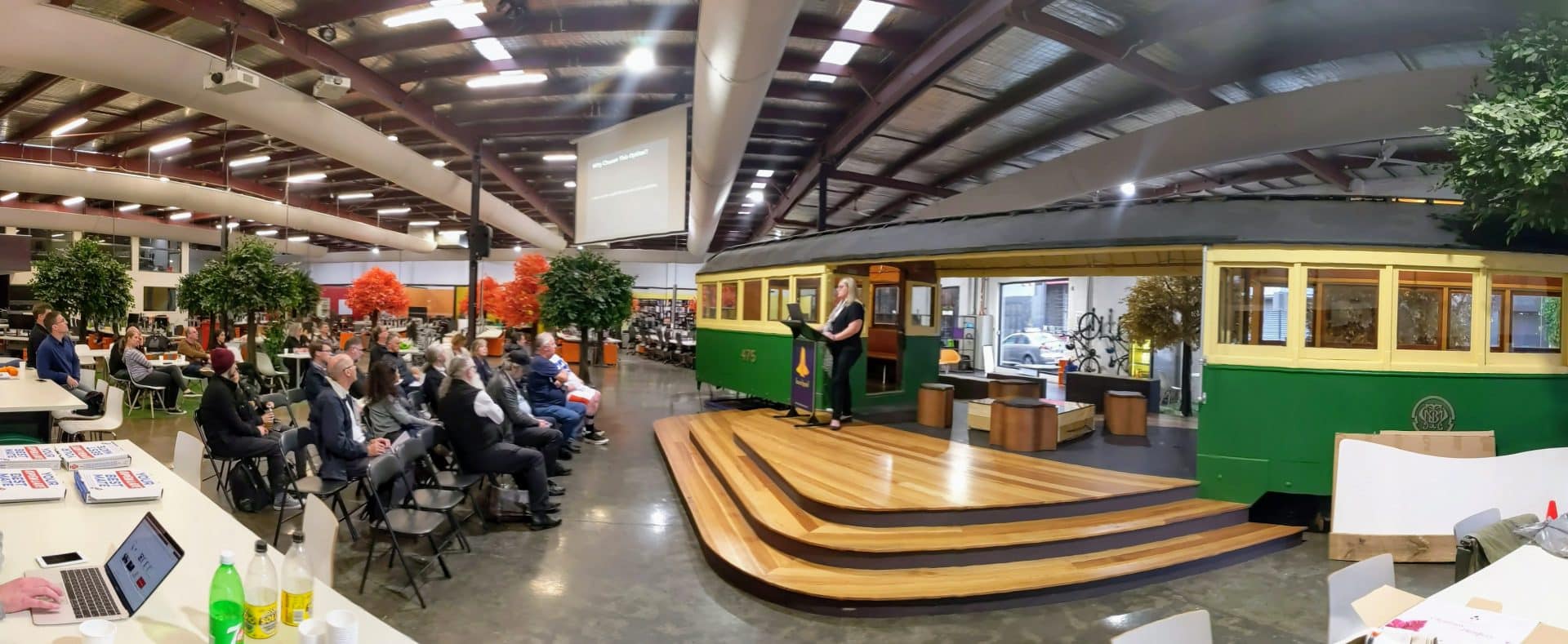 Calie takes a realistic approach from the outset, even before detailing eCommerce options, extensions and plugins, asking the fundamental question: is your approach going to work? Planning is key: understanding your demographic, how many products or services you are selling and what your point of difference will be need to be front of mind to succeed.
The full presentation can be accessed below:
It covers several topics such as:
Payment Gateways
Forms
Subscriptions
Memberships
Online Courses
Bookings
Events
Donations
Point of Sale
Multi-vendor Marketplace
Marketing your site
The Q&A session surfaced insightful queries about booking calendar visibility and how much access your customers have to your schedule. WooCommerce enables you to tailor what customers can and cannot see, for example you can block out Public Holidays, or provide selected schedule windows.
Usability of site was also discussed. Bloated themes and excessive steps can cause confusion and lag – WebPagetest.org was recommended. Understanding the dominance of mobile phones when purchasing online was also noted and clients need to recognise format requirements and adjust accordingly.
However, the majority of conversation centred around the Shipping component, with Calie suggesting Free Shipping where possible or a Flat Rate of $10 (as an example.) Carts are abandoned at this vital stage of the process if instruction is not clear and simple.
Calie included several helpful websites in her presentation which are included in SlideShare, specifically the heatmap tracking app Hotjar which provides great insight into your users. However, the clear message of the evening was that WooCommerce is a trustworthy, reliable and customisable WordPress plugin, that can easily be extended.